Cosmic Quest Episode Two - Mystery Planets Slots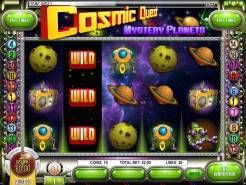 Play Now
Have you played the first episode in this game? It's fun, but you don't have to have played in order to enjoy Cosmic Quest Episode Two - Mystery Planets slots. This space-themed slot game rewards players with an interactive bonus feature and free spins with 2x multipliers in play during all of the free spins.
What Can You Win in Episode Two?
Prizes in Cosmic Quest Episode Two - Mystery Planets slots start at 2 to 65 for the yellow planet. The robot pays up to 65 coins, too, though the smallest prize starts at 3 coins for him. There are the radio and ship that pay up to 100 coins. You'll spot several other planets on the reels. The green planet pays up to 150 coins. The orange and brown planets pay as much as 300 and 350 coins, respectively. The blue and red planets pay up to 400 and 500 coins. The rocket ship is the final paying symbol. It's also an expanding wild. Win up to 5,000 coins with the rockets. There are two other symbols, but they trigger bonuses and don't have a cash value.
Meet the Scatterstronaut
The astronaut scatter is known as "Scatterstronaut." Three of him triggers the bonus game. You have a choice to make. Do you want to win prizes based on your skill or based completely on random chance? Before the bonus starts, you need to make that decision. The skill game has you using the arrow keys to fly the rocket ship through the caverns. It's harder than it looks. If you crash, you walk away with no prize at all.
Win Up to 50 Free Spins
Jet packs trigger the free spins bonus. Get three jet packs and win 10 free spins. If four or five jet packs trigger the free spins bonus, you get even more. Four jet packs land you 25 free spins, and all five gets you 50 free spins. All free spins come with a 2x multiplier. Play Cosmic Quest Episode Two - Mystery Planets Slots now. I ended up being a lousy pilot, but I still had fun trying. It also wasn't a big loss as I'd already triggered free spins three times by the time the bonus had arrived. I won plenty of cash. Give it a try and see how well you can fly through the caverns on a mystery planet.