Midway Madness Slots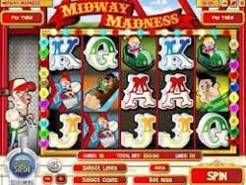 Play Now
Midway Madness slots is one of Rival's popular i-Slots. Step right up to play carnival games, ride rides, and win plenty of prizes in the process. To play, you make a bet, spin, or turn on autoplay. The five reels and 20 pay lines ensure winning combinations pop up regularly. To place your bet, pick how many pay lines you want to activate. Next, select how many coins to bet per line. You can go as high as 10. Finally, set your coin value. Options are 1 cent, 5 cents, 10 cents, and 25 cents. The highest possible bet is $50. No matter what you risk, prizes are generous. You stand to win:
4, 16, or 50 coins with the Jack
6, 20, or 70 coins with the Queen
8, 25, or 100 coins with the King
10, 40, or 150 coins with the Ace
15, 65, or 250 coins with the Tilt 'o' Whirl
20, 100, or 350 coins with the Ferris wheel
40, 150, or 500 coins with the rocket ship
75, 300, or 800 coins with the log ride
8, 200, 1,000, or 15,000 coins with the nauseated boy (jackpot)
This is where things in Midway Madness get interesting. After triggering the bonus, some of the symbols change. The Tilt 'o' Whirl becomes a rubber duck. The Ferris wheel becomes a ring toss game. The rocket ship becomes a basketball hoop. Finally, the log ride becomes a gorilla. The jackpot symbol is now a star. It's a slice of pizza in the third level. Prizes don't change, but the bonus game does. These changes keep the excitement building. The clown wild appears on the first, third, and fifth reels. When he does, he can replicate other symbols to help you form a winning pay line. He has no cash value.
Scatters Trigger Free Spins
The scatters trigger free spins. Get three tickets and gain 5 free spins with a 3x multiplier. Four scatters trigger 10 free spins. If you get five scatters, you win 25 free spins. Prizes in free spins are tripled. You can win up to 45,000 coins! In the first level, tickets are your scatter. It switches to a genie in the second level. Foods form the theme in the third level. Each time you play the bonus game, you get something new.
Bonus Symbols Trigger a Carnival Bonus
Three bumper car bonus symbols in the first level of Midway Bonus triggers a Bumper Car bonus game. Drive your bumper car around and beat the computerized drivers to the coins that fall. In the second level, the bonus symbol becomes a skeeball board. If you get three of them, you'll play a bonus game of skeeball for cash. In the third level, carnival foods become the key theme. How far will you go? Will you work your way through the games, the rides, the food? Play Midway Madness and experience something new with each level.